Introduction to Vocal Alchemy
Begin transforming your voice right now using your 32 streamed videos!
It's your voice - begin training it right now!
---
VOCAL ALCHEMY ONLINE SINGING LESSONS
In a nutshell, here's what you'll receive:
cutting-edge vocal training developed by master vocal coach to the stars

32 comprehensive, online video singing lessons and

more than 220 mp3 singing exercises
How?
Check out everything that is included here
---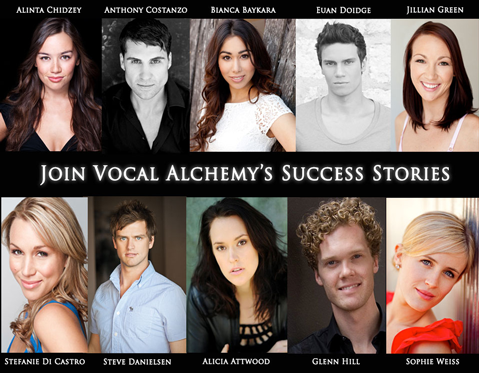 ---
MORE DETAILED INFORMATION:
VOCAL ALCHEMY is the result of over 20 years of professional international teaching, lecturing and performing, providing you with wholistic vocal techniques that are proven to work.
You will master contemporary techniques including belt and cry
Finally understand and use essential classical techniques like resonance and support.
In the section on mix voice, you'll gain real-world, practical skills to control tone and expression in ways you've only ever dreamed!
Learn multiple cross-style singing techniques that are infinitely flexible and powerful in their scope.
The 12 month subscription, gives you the chance to have your singing reviewed with a: Sing for Tim via private upload, Vocal Alchemy will provide feedback on your progress.
Contemporary singers AND classical singers all benefit from the universal, 'big picture' approach that is Vocal Alchemy.
Integrate you the artist and you the singer as one - more completely than ever before.
Gain limitless vocal control that will empower you to make exactly the sounds you want, when you want.
And all of this part of your singing technique - every time you sing - artistically, safely and dependably.
---
VOCAL ALCHEMY is unique in that it approaches your voice knowing you are capable of thousands of sounds and when you've mastered the unlimited skills that VOCAL ALCHEMY will unlock for you, you'll sing like you never have before.
---
LESSON SEQUENCE & CONTENT:
The VOCAL ALCHEMY videos and mp3s are specially arranged so that your singing will improve as quickly as possible. How?
The 32 videos begin with easy-to-learn essential techniques and evolve to professional level in easy to master steps
Beginning with vocal awareness and release, every lesson gives you new skills you can use immediately. Every time you sing, you'll be practicing
Summary-lesson videos spaced every 5 lessons or so - use these for real consolidation and reinforcement
Constant integration of the person and the singer; HOW you sing will be easier and feel more complete than ever before
Multiple teaching techniques for faster learning; diagrams, explanations, on-location segments and demonstrations. Vocal Alchemy takes all the complexity of singing and makes it easy, whatever style you sing in
Purpose-written Vocal Alchemy songs with accompaniment in multiple keys; sing songs from the very first lesson applying and consolidating new techniques immediately
Downloadable mp3s for every lesson that consolidate your learning; use them at the beach if you want
Summary lesson mp3s are huge - up to one hour in length - and often with extension exercises so you can easily master all the singing techniques at Vocal Alchemy.
Almost 200 exercises that alternate between building and reinforcing your learning so you the artist/singer will feel and hear improvement every day from the very first day! And all played in multiple keys
Watch the same lesson as many times as you want ensuring you're always in control; no rush and no hurry
And what's best is your free singing lesson is here, so you can begin to sing like you've always dreamed right now!
Free lesson here!
---
"When you subscribe to VOCAL ALCHEMY, I promise that as a singer and performer - beginner or professional or anywhere in between - you'll gain new skills and insights and techniques that will challenge everything you've ever learned about singing and you'll sing like you've never sung before."
"Feel the difference"
Testimonials
One class with Tim Smith is worth ten classes with anybody else.
If you are like me, a singer looking to improve your voice and iron out bad habits, you can't go past Tim Smith.
Tim's knowledge on vocal technique is astounding. And his ability to convey the information just as strong. Thanks for sharing.
I would have to say Tim Smith is the best teacher I have had the good fortune to work with in forty years of professional performing life.
What more can I say...the man's a genius and I'm so lucky to be able to learn from him.
Tim and I embarked on a journey to cut, shape and polish my voice into a diamond that would last me the remainder of my professional career.
I recommend any performer at any age to do a "Tim Smith Masterclass" as you will walk away feeling enlightened, inspired, energised and passionate about performing.
He's also known as one of the best and most technically knowledgeable singing teachers in the country.
Tony Appleby - PERFORMER/WRITER/PRODUCER
I highly recommend Tim Smith to anyone who wants to sing like a pro!